Details

Category: Cast: Shailene Woodley
Published on Monday, 11 August 2014 17:14
Written by Sookie
This weekend, Ansel Elgort and Shailene Woodley both got to take some prizes home at the Teen Choice Awards! Check below to see their acceptance speeches!
Shailene won choice award for Movie Actress Action/Adventure for Divergent. In her speech, she said she was very honoured to get the award on behalf of women, but especially a very strong woman called Tris Prior. She talks about courage and bravery in the video below.
Ansel won choice Movie Actor in a Drama for The Fault in Our Stars. Watch his extremely moving speech here:
Both actors appeared on stage once more with Nat Wolff, accepting the award for choice Movie Drama The Fault in Our Stars.
Comments (0)
Details

Category: Divergent Movie
Published on Monday, 11 August 2014 17:06
Written by Sookie
It's pretty likely that if you're checking out this features review, you already know Beatrice Prior's story, so we'll skip the plot summary that your high school teachers hated and get right down to the interesting stuff. For this review, I was provided a copy of Divergent that included the Blu-Ray, DVD, and Digital HD copy. If you want special features, this is your basic take-home movie option.
Audio Commentary:
This copy, and I believe this is true for all the copies, includes one commentary track from the director, Neil Burger and another separate one from producers Douglas Wick and Lucy Fisher. My default stance on audio commentary is mostly a mixed bag, to be honest. For me, my enjoyment of commentary tracks revolves around how much the commentator(s) love talking about what is happening in the current scene. I love anecdotes from actors or detailed crew information on the creation of certain sets or costumes. This is probably not what you should expect out of producer commentary. I've never cared much for these features mostly because I hate the way it sounds while it muffles the story underneath their audio tracks, especially when the people commenting are practically trying to lull you to sleep in that weirdly calm Movie Commentary Voice. I did listen to a few minutes of each commentary once I had re-watched the movie. If you absolutely love hearing people talk about the creation process without seeing any of the creation process, then the audio commentary is the special feature for you! If not, proceed to the documentary portion and save the commentary for another day.
"Bringing Divergent to Life" Documentary:
This is easily the best feature in learning about how the movie came together from book to screen. There are several parts to this feature that document everything from the pre-production Dauntless Boot Camp to how they decided on the aesthetics for each of the faction compounds. I really enjoyed learning about their prep work to become believable members of this warrior family that Tris joins. Behind-the-scenes features are always so interesting to me. I hope to do this for a living one day, so seeing these worlds come to life is always a delight and I really appreciate the length of this documentary. There's a lot on how they developed their own fighting style and how the fight choreography developed through the initiates' training. I especially enjoyed the first jumper part and how that was done as a free fall. This is definitely something to carve time out for and hit 'play all'.
"Faction Before Blood" Featurette:
The "Faction Before Blood" featurette is something available just on the Blu-Ray disc. This is a fairly short piece in which some of the actors and producers give a brief discussion and analysis on the world of Divergent and Tris's choices. It's fairly basic in the sense that it's just a dent in the surface of what we as fans have previously discussed amongst ourselves. While none of these points are particularly new to fans that dissect each chapter, it is interesting for newcomers to see these people discuss the story more in-depth. It is also comforting to fans to see the people in charge of this adaptation understand the characters and this world so well.
Deleted Scenes:
This is what everyone looks for when their favorite scenes are cut from book adaptations. Yep, good ol' butter-knife-to-the-eyeball is in there as well as Natalie visiting on Parents' Day and some other ones that I'm actually okay with being cut. Downside: there are only 4-6 ish scenes on there. I really wish there were more deleted scenes. When you watch them you can say "yeah, they really don't work in the pace of the movie, but man, I wish I had more". After such a lengthy making of documentary, it was a surprise that the deleted scenes ended so quickly.
Miscellaneous features:
Also included in the bonus features are the "Marketing Gallery", the "Beating Heart" video and "More From Summit". The "Marketing Gallery" includes a couple of the longer Divergent trailers as well as the promotional posters. I guess this is really great if you have an HD TV and want to look at the details on the posters. Again a good feature for HD TVs: the "Beating Heart" music video. The "More From Summit" section is more trailers, so also not particularly interesting if you already watched them before the Main Menu loaded.
In the end, here is a brief Pro/Con list of the Blu-Ray/DVD/Digital HD combo.
Pros:
- That awesome multi-part behind-the-scenes documentary.
- Deleted Scenes!
- Watching it over and over in the comfort of your own bed surrounded by snacks and Dauntless Cake.
- Temporary tattoos, making your next Halloween costume that much easier to complete.
Cons:
- No gag reel anywhere- always a bummer.
- The costumes featurette is only available on the Target edition.
- Who needs two separate audio commentaries and no gag reel?
- By Ligia.
Read More for all the specific retailer details!
Read more: Divergent DVD Review and Retailer Details!
Comments (0)
Details

Category: Four's Short Stories
Published on Thursday, 05 June 2014 08:13
Written by Faiza
Veronica Roth is going on a Four City book tour in honor of Fours book being released. She will be starting her solo signing event at Boston, MA after this she will be joined by authors such as Maria Lu (Legend Series), Margaret Stohl (Beautiful Creatures & Icons Series) and Phoebe North (Starglass)
Divergent official tumbrl page has reported that for every ticket sold for admission to Veronica Roth's FOUR-City National Tour, a brand-new, high-quality book will be donated to a child in need through First Book. In addition to the FOUR-City National Tour, Veronica will be also be attending San Diego Comic Con International. For more information on where she will be signing contact the bookstores below!
BOSTON - July 8: Veronica Roth Solo Event at 7PM
Nevins Hall
Memorial Building
150 Concord Street
Framingham, MA 01702
*books sold by Barnes & Noble
For information, please call: 508-628-5567
ATLANTA - July 10: Veronica Roth with Marie Lu at 7 PM
Agnes Scott College
Presser Hall
141 East College Avenue
Decatur, GA 30030
*books sold by Little Shop of Stories
For information, please call 404-373-6300 or visit http://www.littleshopofstories.com/events.php
DENVER - July 15: Veronica Roth with Margaret Stohl at 7 PM
Tattered Cover Highlands Ranch
9315 Dorchester St
Highlands Ranch, CO 80129
For information, please call: 303-322-1965
LANSING - July 16: Veronica Roth with Phoebe North at 7 PM
Schuler Books & Music
2820 Towne Center Blvd.
Lansing, MI 48912 
For information, please call: 517-316-7495
Comments (0)
Details

Category: Insurgent Movie
Published on Thursday, 05 June 2014 07:53
Written by Faiza
Want to meet Four? All you have to do is enter on Divergent's official tumblr page here. Please note this entry is only open to US residents!
Comments (0)
Details

Category: Four's Short Stories
Published on Thursday, 05 June 2014 07:43
Written by Faiza
During this week Veronica Roth has been signing 6,000 copies of Four: A Divergent Collection! The Divergent official tumblr released these fun pictures. Make sure you preorder your copy soon!
Comments (0)
Details

Category: Insurgent Movie
Published on Monday, 02 June 2014 06:49
Written by Faiza
Divergent's official twitter page recently announced two new casting choices. Suki Waterhouse is set to play Marlene.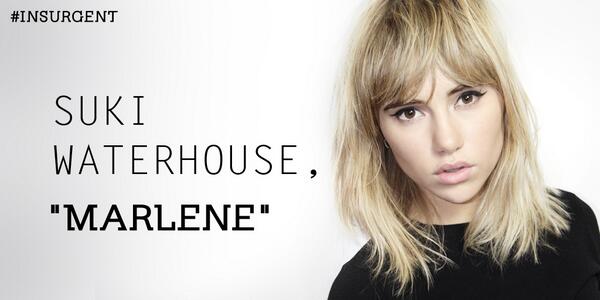 .@sukiwaterhouse is officially the fearless Marlene in The #Divergent Series: #Insurgent! pic.twitter.com/KCZc7LWqLc

— Divergent (@Divergent) May 31, 2014
Meanwhile Jonny Weston has been casted to play "Edgar", a new character in Insurgent. What do you think of the casting choices? Make sure you comment below! We can't wait to see them on the big screen!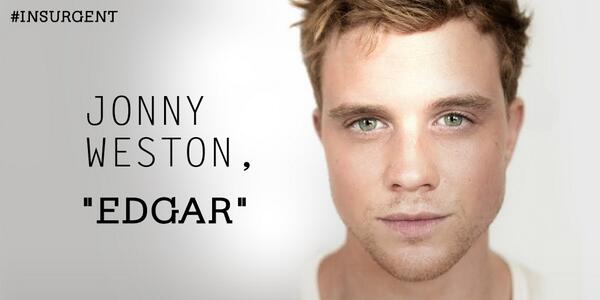 We're excited to announce that Jonny Weston has joined the cast of The #Divergent Series: #Insurgent! pic.twitter.com/eLwoipa33c
— Divergent (@Divergent) May 30, 2014
Insurgent hits theatres on March 20, 2015
Comments (2)
Details

Category: Veronica Roth
Published on Sunday, 01 June 2014 00:38
Written by Faiza
Veronica Roth is going to be at BookCon today! Initiates if you are there make sure you go to her panels.
Panel Details:
Veronica Roth in Conversation with Alex London
11:00 am - 12:00 pm
Location: Special Events Hall
Dystopian Futures: Are They Science-Fact-or-Fiction?
4:15 pm - 5:15 pm
Location: Room 1E07
Speakers: Veronica Roth (moderator), Alaya Dawn Johnson, Danielle Paige, Marie Lu
Comments (0)
Details

Category: Fun
Published on Saturday, 24 May 2014 07:51
Written by Faiza
Attention initiates! If you live in Chicago or surrounding suburbs, this is for you! Anderson's bookshop in Naperville, IL are running week long Divergent Camp sessions. Anderson's will host three different sessions starting from June 9th – 13th, July 7th – 11th and August 4th – 8th.  
Each camp day will run from 9am to 3pm and cost around $250 per attendee.
These special summer camps have limited space only so make sure you register soon! For more information and how to register click here!
Comments (0)